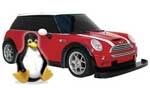 I'm a newbie toy collector: particularly diecast cars — specifically Mini Coopers.
Dunno, Minis (or Coopers, or Coops) just look cool, with its compact design and tough features. Next to the Beetles, Minis are — IMHO — the best people's car there is. Wished I could own one. Now that would be ubercool!
As I've mentioned, I'm still a newbie, having started a little over a month ago. Before that, I occasionally buy Tomica cars. I wanted to collect the whole series, but that would take forever so I focused on Toyotas and Nissans. But because of my transfer back here in the province, I haven't done much shopping for toy cars. Besides, I'm a father to a great little three-year old boy so his toys are my priority now. Of course, there's the wife who gives me the death stare whenever I shop for toys. «sheepish grin»
My interest in diecasts recently got revived by two good friends — fellow collectors, too — who piqued my interests in their hobby. One, killyrbf collects VW Kombis, Hot Wheels Dairy Deliveries, now HW Madd Propz; the other, econg collects Ferraris and assorted muscle cars. Killyrbf does the evilbay shopping for me, while Econg pushes some cool HWs from his, er, "source".
This here, my blog, will be the logbook for my recent acquisitions. I'll be posting photos, whenever possible. Sorry, no trades or for-sales — got no plans of parting with my toys, for now — but I'll think about offers, specially if they belong to my wishlist.